Contemporary Renovation in Wellington, New Zealand
Seaview Road was renovated in 2020 by Voxell Architecture. Originally designed in the 1970's, this stunning renovation balances 70's modernism and contemporary architecture. The home is split over 4 floors with a semi-enclosed courtyard and swimming pool in the center. The work included a complete reconfiguration of the Kitchen, Dining, and Living spaces.

Seaview Road is located in Wellington, New Zealand.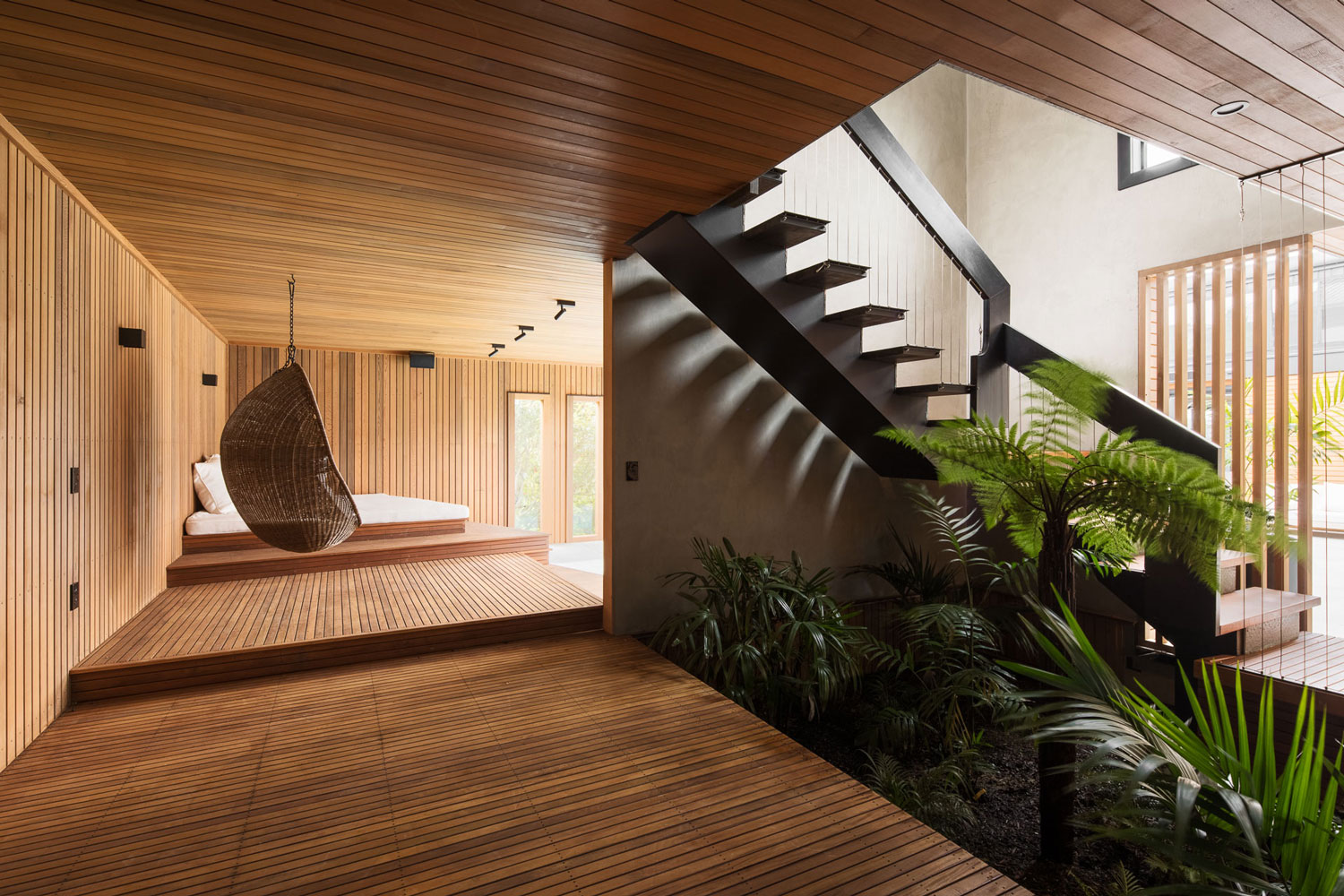 Video
Seaview Road in Wellington, New Zealand by Voxell Architecture:

"Originally designed by prominent architect Friedrich Eisenhofer in the 1970s, the existing building at 66 Seaview Road offered an incredibly unique and exciting renovation opportunity to create a balanced marriage between 70's modernism and contemporary architecture.

The existing property offers a unique entertainment-centric layout; centered on a semi-enclosed courtyard and swimming pool privately nested at the building's core. Concealed beyond its unassuming façade, the building offers an expansive and meandering footprint that terraces down the hillside, split across four levels.

Our brief and design intent for the renovation of this property was to maintain the character that underpins the original design and provide an outcome that reinforces the notion of entertainment. This approach used the existing semi-enclosed central courtyard and swimming pool as the focal point for renovation works, while improving the spatial connectivity and functional layout of the common areas that directly adjoin this external space that has been discreetly concealed at the building's core.

Using the internal courtyard as a focal point, the primary works of the renovation involved a complete re-configuration of the existing Kitchen, Dining and Living spaces; creating an open plan environment between all three functions with simplified movement paths and visual connections between all.

A primary incentive of the design was to add purpose to the previously neglected spaces to the rear of the swimming pool, which became a driving force behind fundamental actions of the renovation. In order to integrate these spaces within the experience of the home, this primary level of the house was split into two notional zones; dry & wet. The 'dry' zone focuses on extroversion and entertainment, containing the primary living, dining, and kitchen spaces, while the 'wet' zone focuses on introversion, offering an atmospheric environment focused on wellbeing. This wet zone contains the addition of an integrated spa, open shower, yoga space, and daybed. These introspective functions occupy the previously neglected spaces of the home, and are given direct association with the rest of the home through strong visual connectivity and direct movement paths.

Centred within these wet zone functions is the existing entry stairwell, which floats above vegetation planted in an integrated garden bed below at the base of the stair. With a common theme of tropical gardens, internalised planting and- strong connections with the surrounding landscape seen across Eisenhofer projects, the addition of this garden bed acts as a strong focal point of the design, and looks to enhance the property in line with design values exhibited by the original designer.

Overall, the renovation works seek to establish an architectural aesthetic that gives a nod to the style of the era in which the building was first constructed, while reinvigorating the notion of entertainment that underpins the original design, ultimately creating a slice of harmony for our clients."
Comments
comments
Photos By: Andre Vroon
LikeShare