Hidden Valley House, Utah by Marmol Radziner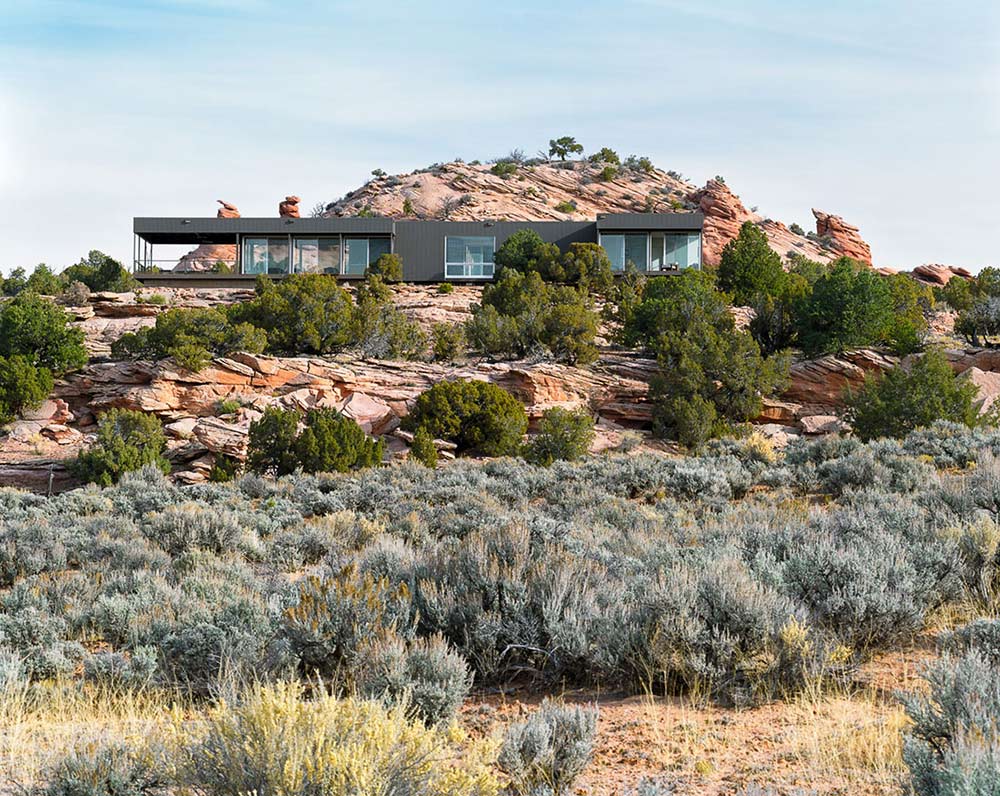 The Hidden Valley House was completed by the Los Angeles based studio Marmol Radziner. This home beautifully blends inside and outside living spaces with expansive decking and glass walls.

The floor-to-ceiling windows provide fabulous views from every room. These views spread across the seemingly endless desert toward the western red rock boulders, to the north there are distant views of snow-capped mountains.

This 2,500 square foot, prefabricated property is located in Moab, Utah, USA. Currently on the market with Sotheby's, priced at $2,995,000.
Hidden Valley Prefab in Moab by Marmol Radziner:

"Designed for an active couple as a vacation home, Hidden Valley sits on an open, hundred-acre site punctuated by red rock formations and cliffs in the arid desert of Moab, Utah. The two-bedroom, two-bath structure is comprised of five interior modules and seven deck modules.

The design of the home blends indoor and outdoor living spaces, with expansive decks, floor-to-ceiling windows, and an open plan. The main approach winds around the solid, metal-clad side of the home, revealing the opening of the front entry deck with a broad view across the pool to a tall boulder formation. The primary axis of the main house runs along a rock ledge, creating dramatic views out over the landscape.

With three full sides of windows and sliding glass doors, the views in the great room proceed from southern (looking out over the rock ledge) to western (red rock boulder formations), and finally to the northern views of snow-capped mountains in the distance. The guest wing with an exercise room opens up to views of the boulder formations on one side and the mountains on the other.

The house was produced almost entirely in the Marmol Radziner Prefab factory. pre-cut steel beams and joists were welded together to create the floor and roof frames. Next, the pre-cut columns were attached to the floor frame and the roof frame was then placed on top of the columns. Subsequently, structurally insulated panels (SIPs) that create the sub-floor and roof structures were installed. Once the steel frame was set, the interior wall framing, plumbing, and electrical and mechanical components were completed. Finally, the windows and doors, interior and exterior finishes, built-in casework, appliances, and fixtures were installed.

The modules were then shipped to the site on flatbed trucks and lifted on to the foundation with a crane. The modules were then bolted together and welded to the foundation to become a permanent structure. Finally, the home was connected to the site infrastructure, at pre-determined hook-up joints, and patched along the lines where the modules meet.

Hidden Valley uses sustainable materials and systems to minimize the environmental impact home, both in its creation and in its function. To reduce energy consumption, SIPS in the home's floor and ceilings provide superior insulation. Geothermal systems use the earth to heat and cool the home, while solar panels draw energy from the sun. Modular construction maximizes factory production, thereby minimizing construction waste due to precise cutting and the ability the reuse and recycle of excess materials.

Factory production also centralizes trades, which reduces vehicular emissions from travel to construction sites. This is particularly important for the remote location of Hidden Valley, where instead of having the construction staff drive to the home site every day, fifteen trucks delivered the completed home over two days. The home's recycled steel frame promises long-term endurance against natural elements, such as termites, and mould without requiring chemical treatments. The home employs other green materials, including FSC-certified wood, low VOC Green Seal paint, and Energy Star appliances."
Comments
comments
Photos By:
Joe Fletcher Photography
Like
Share