Casa S, Mountain House in Argentina by Alric Galindez Architects
Casa S was completed by the Buenos Aires based studio Alric Galindez Architects. This 6,360 square foot contemporary home includes 7 bedrooms and 4 bathrooms.

Casa S affords spectacular views over the surrounding hills and lake, the house has been designed to maximise these views with floor-to-ceiling glass walls, the property is located in Bariloche, Argentina.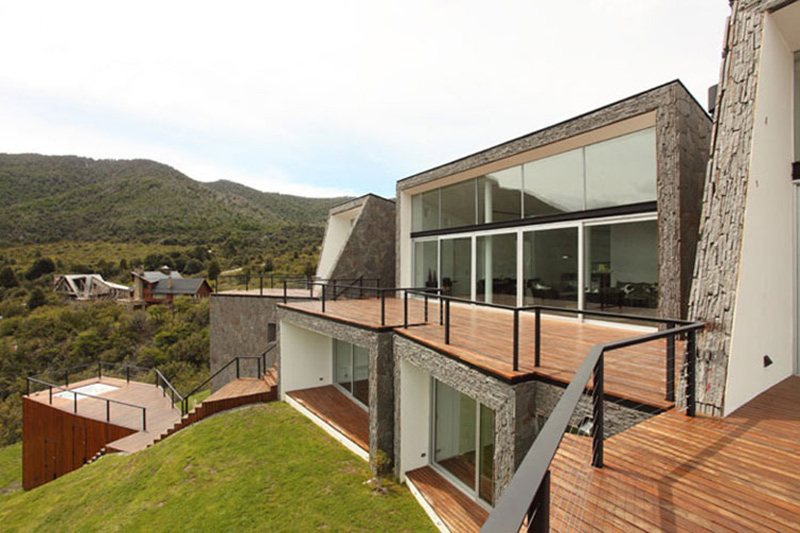 Casa S by Alric Galindez Architects:

"The house is a result of several stone boxes piled up on the side of a sloping area. Each one of these cases points and frames an outstanding view, where we can find Cathedral, Otto, and Ventana mountains, as main characters of the landscape seen from inside.

The space is organized so that it can be divided in different zones, depending on the number of persons that are actually using the place. During most of the year, the house can be used by areas, smaller homes inside the big house for single couple trips or for groups of friends in leisure plans, or even both of them happening at the same time. These variety of layouts transform the inside life of the house, growing, changing, adapting, evolving.

We used local stones to keep a coherent language with the harsh and wonderful surrounding, trying to create the idea that the house was always there, just as another rock or an unnoticed natural feature. Snow seasons reinforce the idea. A white vast dominating view, only a few mountain peaks appear in dark contrast and the house always there.

The social area is placed on the access level, dominating the best views captured by white calm boxes from inside, opposing to the overwhelming exterior. The master bedroom, and the guests room share this level too, each facing a different mountain, in this surprising kaleidoscope of sights.

On the ground floor level, the rooms for the kids, shaped by the land slope, creating different situations and volumes, and a two level loft, due to a sudden depression on the terrain becomes the boy's master space.

As an extension of the deck, a sinuous wooden stair guides us to the last box, resting a few steps below. A sightseeing Jacuzzi offers the best sunset views of lake Gutierrez, and below the wooden deck, a warm gym and a sauna complete this relax an inspiring lookout, in an ideal mood, slightly above the Patagonian valley."
Comments
comments
Photos By: Alric Galindez Architects
Like
Share